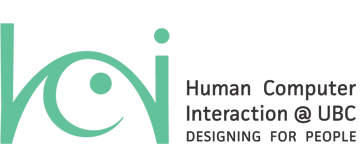 ---
HCI@UBC Social Event
Posters and Demos – HCI Research at UBC
Location and time
Engineering Design Centre, Rm 102
Noon-1pm
---
Monthly Noontime Lecture Series
Remote Shared Experiences: Changing the Way We Communicate with Video
Kori Inkpen
Microsoft Research
Website
Dr. Kori Inkpen is a Principal Research and Research Manager of the neXus group at Microsoft Research (MSR). Her research interests are in the fields of Computer-Supported Cooperative Work and Human-Computer Interaction and her work explores alternative computing environments to support natural, seamless collaborative interactions, for both work and play. Her current focus in on how video is changing the way we communicate with others, and the huge potential it offers to transform the way we interact with friends, families and colleagues, both near and far. Dr. Inkpen has been an organiser of many international conferences including Technical Program Chair for CHI 2015, Conference Co-Chair for CSCW 2010 and Conference Co-Chair for Group 2007. Prior to joining Microsoft she was a Professor of Computer Science at Dalhousie University (2001-2007) and Simon Fraser University (1998-2001).
Abstract:
Video communication through tools such as Skype, FaceTime and Hangouts has grown tremendously over the past decade and video is helpful at enabling people separated by distance to keep in touch with each other. However, too often we only think of video as a technology we use to call a distant friend or relative. Current uses of video communication have only scratched the surface of the huge potential video can provide in our everyday lives. Similar to how text messaging evolved and changed the way people communicate, video provides new opportunities not available in other mediums. The neXus Group at Microsoft Research is exploring next generation video communication tools to enable anytime, anywhere video conversations that can move beyond traditional "talking heads" conversations to support rich shared experiences.
This talk will showcase some of the many ways video is changing how we interact with others and justify why we should embrace the video generation. Video is already being used to enhance many activities in our daily lives, however, current tools are not well designed to support people doing things together. To better understand the challenges and opportunities in this space, we have explored many activities that people want to do together such as homework, shopping, watching TV, going to the park, going out to eat, and watching kids' weekly lessons. We also explored the use of video to enhance special occasions like birthday parties or concerts and festivals. Results from this work reveal several key components that video communication systems need to provide to help us move beyond talking heads and enable people to both "be together" and "do things together".
Location and time
Lillooet Room, IK Barber Learning Centre
Noon-1pm
---
Monthly Noontime Lecture Series
Wearable Technologies
Hélène Day-Fraser
Assistant Professor, Emily Carr University of Art + Design
Hélène Day-Fraser is an Assistant Professor at Emily Carr University of Art + Design. She is a founding member of the Emily Carr Material Matters research cluster, a member of the Emily Carr DESIS Lab, the International Local Wisdom research network, and Creatives with Intent (an Emily Carr based sustainability initiative). She is a Lead/co-lead Investigator on several Emily Carr University research projects: cloTHING(S) as conversation, +++=, Lifebooster, DnA and a Research fellow of the Brooklyn Fashion + Design Accelerator. Hélène holds a BAA Fashion, MAA Design. Her creative practice and research consistently engages in re-imagining textile product possibilities – exploring analogue and digital forms of making through art/design and interdisciplinary-based collaborations.
Abstract
Clothing as Conversation
CloTHING(s) as conversation is an interdisciplinary research initiative that seeks to broaden our views of clothing. We are exploring the possibilities inherent in clothing forms that encompass notions of multidirectional interchanges and dialogue. By looking at the garments we wear as provocations of conversation our intention is to disrupt a range of worn assumptions. Our work focuses on personal affordances and individual perspectives often overlooked when designing socially responsible and responsive wearables.
Junia Anacleto
Associate Professor, Department of Computing, Federal University of São Carlos, Brazil
Website
Dr. Junia Anacleto has a Ph.D. degree in Computational Physics, a MSc degree in Computer Sciences and Statistics and is a Bachelor in Computer Sciences from the University of São Paulo USP, Brazil. She was a Visiting Researcher at the MediaLab MIT, Massachusetts Institute of Technology in 2006-2007. She is an International Visiting Research Scholar from Peter Wall Institute for Advanced Studies at the University of British Columbia. She currently is an Associate Professor at the Federal University of São Carlos, Department of Computing. She is also the Coordinator of LIA – Advanced Interaction Laboratory. She has experience in the area of Computer Science, with emphasis on Human Computer Interaction focused on: Natural interactions, Culturally Contextualized Software Development, Education, Healthcare, Urban Computing.
Abstract
Virtual Proxemics for Wearable Technology
I will present a model of Virtual Proxemics, derived from Edward Hall's Proxemic Theory, targeting wearable technology design and use. In Virtual Proxemics, the degree of control defines different levels of intimate data spaces including: Intimate, Personal, Social and Public in the same way Hall's proxemics defines these for distance from a person. Experiences with our wearable based system called "The Cat  in the Map", we see that Virtual Proxemics can provide a model that aligns with the wearer's experience of data control and may be suitable for the design of automated data access control mechanisms.
Amir Servati
Post-Doctoral Fellow, Department of Electrical and Computer Engineering, UBC
Amir Servati received his PhD in Electrical Engineering from University College London, UK and MD from SBMU, Iran. He is currently a post-doc in a collaboration between Flexible Electronics and Energy Lab (FEEL) and Advanced Fibrous Materials Lab (AFML), working on wearable sensing materials for medical and health applications.
Abstract
Nanofiber based sensors and wearable garments for real-time health monitoring
Wearable health monitoring devices and garments are considered as the next big thing in view of their potential impact on improving clinical approaches especially for chronic illnesses. In this talk I briefly introduce two sensing platforms developed at the FEEL group and the proof-of-concept experiments that demonstrate their potential applications.
monthly-noontime-lecture-series
Location and time
Room 102, Engineering Design Centre, 2345 East Mall
Noon-1pm
---
Event Test
Predicting Personality from Digital Footprints
Michal Kosinski
Stanford University
Michal Kosinski is a computational social scientist and Associate Professor in Organisational Behavior at the Stanford Graduate School of Business. Until recently, Michal was Deputy Director of The Psychometrics Cetre, but moved to the Bay Area of San Francisco in 2014. While resident in Cambridge he was also a research consultant at Microsoft Research. He combines a solid psychological background with extensive skills in the areas of Machine Learning, data mining, and programming. His current research focuses on the digital environment and encompasses the relationship between digital footprint and psychological traits, crowd-sourcing platforms, auctioning platforms, and on-line psychometrics.
He continues to co-ordinates the myPersonality project, which involves global collaboration between over 80 research teams analysing the detailed psycho-demographic profiles of over 8 million Facebook users. Michal is currently leading a team developing Concerto: an open-source on-line adaptive assessment platform, and applymagicsauce.com: an automated online service which translates digital footprint into psycho-demographic profiles.
Michal has published over 20 papers in the last 2 years in journals ranging from Proceedings of National Academy of Sciences (PNAS), World Wide Web Conference, (WWW), Journal of Personality and Social Psychology (JPSP), to Machine Learning Journal (MLJ). In the same period, he has delivered nearly 40 keynote speaches and lectures to audiences ranging from policy makers (EU Parliament), marketing executives (eCommerce: Futures), HR specialists, to psychometricians and test publishers (ETPG).
Prior to entering academia, Michal had a distinguished business career. He founded a successful ITC start-up and managed a team of 15 consultants and served as a brand manager for a major computer accessories brand introducing the first VoIP product line in Poland.

Abstract
Personality traits form a key driver behind people's behaviour, cognitions, motivations, and emotions; therefore, assessing others' personality is a basic social skill and a crucial element of successful social interactions. However, based on a sample of over a million participants, I show that personality judgments made by computers―and based on generic and pervasive digital footprints (Facebook Likes)―are more accurate than those made by participants' friends, family members, and even romantic partners. Furthermore, compared with humans, computers achieve higher inter-judge agreement and superior external validity (i.e. are better at predicting life outcomes). In some cases, computer-based personality judgments are even more valid than self-reported personality scores. I conclude by discussing the consequences of computers outpacing humans in this basic social-cognitive skill.
Location and time
Kenny 2510
3pm
---
Monthly Noontime Lecture Series
Designing the Museum Experience
Ann Stevenson
Information Manager and Department Head, Audrey and Harry Hawthorne Library and Archive
Mawuena Glymin
IT Manager
Gerry Lawson
Oral History Lab Coordinator
Location and time
UBC Museum of Anthropology
Noon-1pm
---
Monthly Noontime Lecture Series
Etching random 56-bit secrets into human memory
Stuart Schechter
Microsoft Research
Stuart Schechter is a man of few accomplishments and so, the reluctant reader should be pleased to learn, his biography is correspondingly short. Stuart researches computer security, human behavior, and occasionally missteps in such distant topics as computer architecture and research ethics. Those who have worked with Stuart rave about his "tireless efforts and disturbingly obsessive dedication… to brainstorming paper titles" and his knack for "carefully vetting ideas to expose every shortcoming, especially when examining ideas he cannot take credit for." Institutions that may or may not be re-evaluating their admissions or hiring policies as a result of past associations with Stuart include The Ohio State University College of Engineering (B.S.), Harvard's School of Engineering and Applied Sciences (Ph.D.), MIT Lincoln Laboratory (his happily-former employer), and Microsoft Research (his less-fortunate current employer).
Abstract
The great majority of passwords we are asked to remember don't actually both memorable and "strong" (hard to guess). You won't be harmed if a low-value password you use for a news website is compromised. Thanks to password managers, built into web browsers or offered as stand-alone applications, you no longer need to remember a different password for each website if you don't want to.
But when we store all of these secrets we used to access websites are stored and password managers, and kept online so that our passwords can be synchronized between devices, what about the secret used to protect our password manager? What about the secrets we use to login to the devices on which our password managers run? When two master passwords protect all of our credentials, and forgetting these secrets would cause us to lose access to all of our online accounts, we do need these secrets to be both secure and memorable!
In this talk I will show how system-assigned random secrets can be made superior to user chosen passwords for these high-stakes uses. We created a user experience that trains users to recall these passwords with minimal interruption to their normal workflow. The training was spread out over a period of roughly ten days and consumed an average of ten total minutes over that period—a small cost given that users will only need to remember two of these passwords. Memorization occurred even though participants were never actually asked to try to learn or remember the secret, demonstrating that we achieve memorization without the anxiety and cognitive stress that results when users must make a conscious effort to attempt to commit information to memory. Following training, recall rates for 56-bit random secrets were superior to the recall rates observed in studies in which participants chose their own password.
Location and time
Lillooet Room, IK Barber Learning Centre
Noon-1pm
---
Monthly Noontime Lecture Series
A Conversation on Mixed Methods Research, With a Focus on Why and How
Dr. Barbara Wildemuth
Associate Dean and Professor, School of Information and Library Science, University of North Carolina at Chapel Hill
Dr. Barbara Wildemuth is Professor and Associate Dean in the School of Information and Library Science at the University of North Carolina at Chapel Hill (USA). She is the author of the monograph, Applications of Social Research Methods to Questions in Information and Library Science (2009), and is currently working on a chapter on mixed methods for its second edition. Her research is focused on people's interactions with information, particularly when those interactions are computer-mediated; recent studies have focused on the design of the search tasks assigned in interactive information retrieval experiments and the search tactics used when searching for digital videos. She regularly teaches undergraduate and graduate courses in research methods.
Abstract
In his latest book, Creswell (2015) defines mixed methods research as "an approach… in which the investigator gathers both quantitative (closed-ended) and qualitative (open-ended) data, integrates the two, and then draws interpretations based on the combined strengths of both sets of data" (p.2). Our conversation will focus on several aspects of this definition, including the nature and status of qualitative and quantitative data as research evidence, and the challenges and opportunities of using both forms of data in the same study. We'll also discuss the underlying reasons to use mixed methods (the why) and closely examine several examples of mixed methods research in information science (the how).
Location and time
Dodson Room, Irving K. Barber Learning Centre
Noon-1pm
---
Monthly Noontime Lecture Series
Ink to Pixels: A Personal Experience
Aleksey Novicov
Aleksey Novicov has been developing consumer electronic products for over 25 years, from Smart Meters, to Global Village modems and Internet gateways, and Gemstar eBook readers. In the last six years he has focused his efforts on mobile software, creating  a number of popular iPhone apps including Marquee, Concentration, Glasses and Contact Slip. Mostly recently he is the Director of Mobile Development at LOYAL3, a financial services company that provides crowd-source funding for the capital markets.

Abstract
In 1998, SoftBook Press unveiled one of the worlds's first eBook reading devices. The SoftBook set the whole eBook market in motion with its creation of a standalone reading device, the DNA of which is present in all modern eBook reading devices today. At the same time SoftBook Press also created a complete ecosystem for the online discovery, sale, and delivery of digital content, and the popular ePUB electronic publishing standard.
As "Architect of The Experience" Aleksey Novicov will describe the creation of a mobile reading experience that mimicked and extended the experience of reading reading ink on paper.
Location and time
Lillooet Room, 301, IK Barber Learning Centre
Noon-1pm
---
Monthly Noontime Lecture Series
Improving the Usability of Health Information Systems: From Rapid Usability Testing to Clinical Simulations
Andre Kushniruk
Professor, School of Health Information Science, University of Victoria
andrek@uvic.ca
Andre Kushniruk, PhD is a Professor at the School of Health Information Science at the University of Victoria in Canada. Dr. Kushniruk conducts research in a number of areas including evaluation of the effects of technology in health informatics. His work is known internationally and he has published widely in the area of health informatics. Dr. Kushniruk has held academic positions at a number of Canadian universities and worked with major hospitals in Canada, the United States and internationally. He holds undergraduate degrees in Psychology and Biology, as well as a M.Sc. in Computer Science from McMaster University and a Ph.D. in Cognitive Psychology from McGill University. Dr. Kushniruk was elected as a fellow of the American College of Medical Informatics in 2009. 
Abstract
This presentation will describe novel methods for assessing the usability of health information systems and for improving system usability. The discussion will draw on examples from the evaluation of a number of health applications, ranging from decision support to Web-based clinical guidelines and electronic health records. The approach described will be considered along a continuum ranging from laboratory-based usability testing to in-situ clinical simulations (conducted in real healthcare settings) and naturalistic study of system use. An integrated framework will be discussed for conducting evaluations of information systems which borrows from advances a number of fields, including the cognitive, information and computer sciences, as well as the emerging field of usability engineering. Low-cost rapid approaches to conducting usability testing of health information systems will be described. Application of video analysis for assessing human-computer interaction in health care settings will be illustrated along with extensions of the approach to what we term "clinical simulations" to assess system usability and safety in real settings. Examples will be provided of how the approach has been used for improving the usability of electronic health record systems.
Location and time
Engineering Design Centre (EDC), Room 101, 2345 East Mall (Near Health Sciences Parkade)
Noon-1:00pm
---
HCI@UBC 2014-2015 Kickoff Event
Short Talks – HCI Research at UBC
Leanne Currie
Associate Professor, School of Nursing
Health Informatics
Gregor Miller
Research Associate, ECE
Video Analysis and Management
Lisa Nathan
Assistant Professor, iSchool
Sustaining Information Practices
Andrew Strang
Research Associate, CS
Haptic interactions with the CuddleBot
Location and time
Lillooet Room, 301, IK Barber Learning Centre
Noon-1pm