---
HCI@UBC Kickoff Event : September 13, 2017
The UBC HCI researchers will present short overviews of their research
Speaker #1
Rich collaboration systems: Improving online collaboration with multi-modal interactions
Dongwook Yoon, Assistant Professor, UBC Computer Science
Abstract
In this talk, Dongwook Yoon will present rich collaboration systems that are designed to bring the expressivity of human-to-human interaction into online collaboration. Face-to-face interaction, as compared to meeting in a virtual way, offers unmatched expressivity for conveying complex ideas and nuanced emotions (e.g., emotions embedded in voice inflection or the unspoken meaning of a pointed finger). To enhance expressivity of virtual collaboration tools, Yoon's design approach translates such natural human interactions into novel combinations of input modalities (e.g., speech, writing, and gesture) that serve as building blocks for fluid, rich, and lightweight interfaces. Yoon built, deployed, and evaluated high-fidelity systems in real world contexts (e.g., classrooms), from which we can obtain ecologically valid user data. He plan to pursue the vision for rich collaboration systems by extending his approach to virtual reality, a promising next generation computing platform.
Bio
Dongwook Yoon is currently a Ph.D. candidate at Cornell in Information Science. Dongwook will join the UBC Department of Computer Science as an assistant professor starting in August 2017. His research lies at the intersection of human-computer interaction, computer-supported cooperative work, computer-mediated communication, and educational technology. He builds interactive systems powered by expressive multi-modal interactions. His work frequently appears at top-tier ACM venues including UIST, CSCW, and CHI. His multi-modal document commenting system, RichReview, has been deployed to six different classes at Cornell, including a massive open online course where it was successfully used by more than 150 students around the world as a tool for online peer discussion assignment. He has worked at Microsoft Research, edX, and KIST. He earned his B.S. in electrical engineering and M.S. in computer graphics from Seoul National University. His Ph.D. study has been supported by a Kwanjeong Scholarship.
Speaker #2
Marina Milner-Bolotin, Associate Professor, UBC Curriculum & Pedagogy (Faculty of Education)
Speaker #3
TBD
---
October 11, 2017
The Dream of a Common Infrastructure: Why We Should Get Out of the Lab in the Big Data Era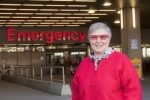 Ellen Balka, University Professor, SFU School of Communication
Ellen Balka will speak about the need to leave the lab and go out into the field and use ethnography in order to improve data quality in an era of big data. Historically, much HCI research was carried out in laboratory settings using experimental methods. And, while these methods remain important, in this talk she will suggest that they are wholly inadequate in addressing issues arising in our efforts to build large multiuser computing infrastructures to support big data applications and analysis. Using examples from 20 years of ethnographically-based field research in healthcare and related settings, she will outline a number of human computer interaction challenges which emerged through observationally based ethnographic research. The examples she draws on underscore the importance of focusing on how people work in situ – in real world organizations, carrying out real-world tasks – and also highlight a number of issues and challenges which threaten data quality, and ultimately analytic findings based on poor quality data, in an era of big data.
Bio
Ellen Balka is a University Professor in Simon Fraser University's School of Communication. She is also an associate member of SFU's School of Interactive Arts and Technology, and a Senior Scientist in Vancouver Coastal Health's Center for Clinical Epidemiology and Evaluation. Throughout her career, her work has spanned computer science and social sciences. A frequent contributor to publications in the areas of computer supported cooperative work, participatory design of information technology systems, and occasionally HCI, she and her team also regularly publish in health and medical informatics journals. Her engagement with computing began as an undergraduate geography major, when she became interested in limitations inherent to algorithms used to simulate heat loss and thermal gain. After completing a Masters degree that focused on computerization of women's work, Dr. Balka went on to conduct one of the first large studies of the use of computer networks for social change for her doctoral work, for which she earned an interdisciplinary degree in applied sciences combining computer science, communication, and women studies. Balka has held grants from SSHRC, CIHR, the Michael Smith Foundation for Health Research, Health Canada, and Genome BC as PI. Her publications have been recognized by Best Paper Awards from the ACM Conference on Computer-Supported Cooperative Work as well as the Americas Conference on Information Systems (AMCIS), and she and her team received the Artful Integrators Award at the bi-annual Participatory Design Conference for contributions to participatory design of computer and information technology systems. Her current work is concerned with design and implementation of an adverse drug event reporting system (with Dr. Corinne Hohl, UBC and VCH).
---
November 8, 2017
Liisa Holsti, Associate Professor and Canada Research Chair, UBC Occuptational Sciene & Occuptational Therapy
---
December 6, 2017
Wolfgang Stuerzlinger, Professor, SFU School of Interactive Arts and Technology
---
January 10, 2018
TBD
---
February 14, 2018
William Odom, Assistant Professor, SFU School of Interactive Arts and Technology
---
March 14, 2018
TBD
---
April 11, 2018
Designing for People Year-end Poster/Demo Event
---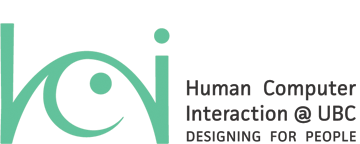 ---