LUNCH Provided
NEW LOCATION – DFP Classroom, Forestry Building, Rm 2300 (2nd Floor, Forestry building, 2424 Main Mall)
DIRECTIONS: Once you are inside the Forestry Science building walk to the rear (south-east) of the building by passing through the large open study area and up the stairs to the 2nd level student ("treetop") lounge area. For room 2300A, the MAGIC Lab, turn left, pass through a double door and the lab is 1st on the right.
---
November 8, 2017
Calmer: A Robot for Managing Pain in Infants in the Neonatal Intensive Care Unit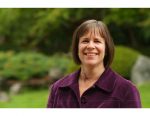 Liisa Holsti, Associate Professor and Canada Research Chair, UBC Occupational Science & Occupational Therapy
Each year worldwide, over 15 million infants are born preterm. These infants need specialized medical procedures to save their lives, many of which may be painful; however, early pain is associated with brain injury and with negative effects on growth and development. Traditional medications for reducing pain are not effective particularly for routine medical tests. Instead, behavioral treatments, such as parents holding their infants skin-to-skin, are recommended. Yet, for a variety of reasons, many parents are not able to hold their infants for the many months needed to treat each painful event while their infants are in the NICU. To address this problem, Dr. Holsti, Dr. Karon MacLean (UBC CS) and Mr. Henry Voss (UBC Engineering Graduate), invented a robotic system called Calmer, that delivers simultaneously fundamental components of skin-to-skin holding (touch, motion and sound) that activate parallel physiological pathways to reduce pain. This talk will focus on the development and early clinical testing of the first prototypes of Calmer.
Bio
Dr. Liisa Holsti is an Associate Professor in Occupational Science and Occupational Therapy at UBC, holds a Canada Research Chair and is an Investigator at B.C. Children's Hospital and B.C. Women's Research Institutes. Dr. Holsti's research is aimed at optimizing neurodevelopment in high-risk infants and children. She has expertise in developing assessment tools, including functional brain monitoring technology, and evaluating novel non-pharmacological and technology-based strategies for brain protection for infants cared for in the NICU.
---
December 6, 2017
Towards Better User Interfaces for 3D
Wolfgang Stuerzlinger, Professor, SFU School of Interactive Arts and Technology
Three-dimensional (3D) user interfaces are popular in science fiction movies. Inspired by such visions, there are now many systems that enable people to interact with 3D content, including computer games. Based on reflections on the capabilities and limitations of both humans and technologies, I present recent research improvements to 3D pointing, docking, manipulation, and navigation methods and new fatigue models for 3D interaction. Finally, I will present two new virtual reality systems.
Bio
Building on his deep expertise in virtual reality and human-computer interaction, Dr. Stuerzlinger is a leading researcher in spatial and three-dimensional user interfaces. He got his Doctorate from the Vienna University of Technology. Since 2014, he is a full professor at the School of Interactive Arts + Technology at Simon Fraser University in Vancouver, Canada. His works aims to find innovative solutions for real-world problems. Current research projects include better interaction techniques for spatial applications, new human-in-the-loop systems for big data analysis (visual analytics and immersive analytics), the characterization of the effects of technology limitations on human performance, investigations of human behaviors with occasionally failing technologies, user interfaces for versions, scenarios and alternatives, and new virtual reality hardware and software.
Home page: http://ws.iat.sfu.ca/
---
January 10, 2018
TBD
---
February 14, 2018
Investigating Metadata as a Resource for Designing Longer-Term Interactions
William Odom, Assistant Professor, SFU School of Interactive Arts and Technology


The convergence of social, cloud and mobile computing alongside the massive adoption of networked personal devices has resulted in the production of large amounts of metadata—human or machine constructed traces of digital information that implicitly and explicitly document people's interactions and experiences in daily life. These diverse and growing archives of metadata offer largely unexplored opportunities for revealing rich insights about ourselves, catalyzing new social connection and collaborations with others, and supporting longer-term interactions with technologies inhabiting our everyday lives. In this talk I will draw on examples of systems developed in my recent research to demonstrate and reflect on new opportunities that metadata presents for designers and researchers of interactive technology.
Bio
William Odom is an Assistant Professor in the School of Interactive Arts and Technology at Simon Fraser University. His work has received numerous best paper and honorable mention awards at ACM conferences including CHI, DIS, and Ubicomp, as well as a silver international design excellence award (IDEA) from the Industrial Designers Society of America. He is Technical Program Chair for ACM DIS 2018. He holds a Ph.D. in Human-Computer Interaction from Carnegie Mellon University, and was previously a Fulbright Scholar in Australia and a Banting Postdoctoral Fellow in Canada. He can be reached at: www.willodom.com
---
March 14, 2018
TBD
---
April 11, 2018
Designing for People Year-end Poster/Demo Event
Save your posters and demos from the year
Create new posters to show your work
Prizes for Student projects!!
---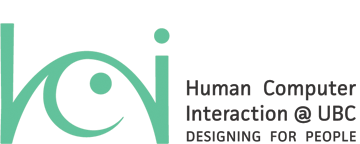 ---