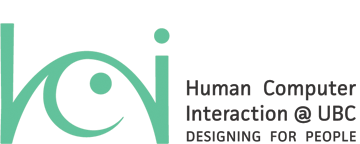 ---
April 12, 2017
HCI@UBC: Designing for People Year-end Poster/Demo Event
Do you have a poster or demo ready to share?
Date: Wednesday, April 12
Time: 12noon–2pm
Where: Forestry Building, 2nd floor; Room 2300 A – 2424 Main Mall;
A short walking video: https://www.youtube.com/watch?v=kySavAdRmgc
$300 in prizes available!
You are welcome to bring posters that have been already printed for different events. This will be a great opportunity to share your work and expand your network.
Everyone will be able to vote to select our prize winners!
Please include the following information:
Title
Abstract (max 150 words)
Authors and affiliation
Format (poster or demonstration)
What AV are you bringing (laptop, projector, iPads, tablets, etc.)
If you want to present a demo of your work, please tell us what equipment you will be bringing (and how much space it will require) and any special requirements you might have. Standard electrical power, UBC WiFi, and a table will be available.
If you are bringing a poster, please let us know the size and format (portrait or landscape). If possible, please no posters wider than 36 inches.